1. St. Peter's Basilica-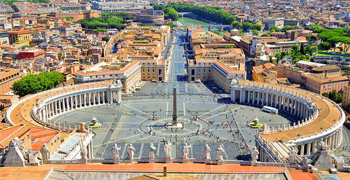 This largest church in the world was built during Renaissance is the holiest shrine holding the highest reputation in Christendom. The Papal Basilica of Saint Peter in the Vatican is decorated, designed, and curated by magnificent painters, artists, and sculptures of all time. Catholics believe that St. Peter's tomb is directly at the bottom of the high altar of Basilica and therefore regarded as the most sacredsite.
High season: April to September
Timing: 7 am. Tp 7 pm.
2. Garden of Vatican City
This humongous garden covers half of the city territory is a property of the church and owned by the pope. This 23 hector plot is almost 60 meters above sea level. This majestic garden was curated during the Renaissance era and upholds various intricate and fascinating fountains, angels, sculptures, and contemporary rare orchids, flowers, and bushes. In between St. Peter's Basilicaand Sistine Chapel, this green carpet pitch of this Vatican Garden looks awesome. The slow watchful walk around the garden can take 1-2 hours.
Ticket full price-32Euro & reduced price-24Euro
Timing: 8:30 am-6:30 pm from Monday to Thursday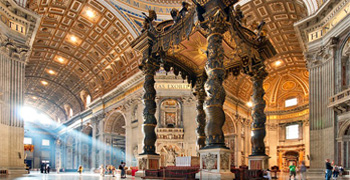 3. Sistine Chapel-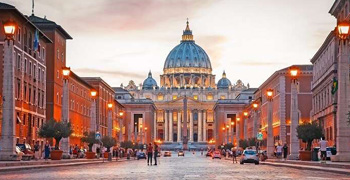 The official residence of the Pope has a religious and functionary aura of its own. It was built during the 14th century used for performing various papal ceremonies. The Sistine Chapel has earned its historic value and fame due to the memorable artistic work of Michelangelo, the interior fresco, and 'the Last Judgment '. This place is also used as a conclave during the selection of the Pope. It attracts an innumerable number of tourists and artists to visit and wander about this everlasting creation.
High season: May to October
Ticket: 16 Euro for adults & 8 Euro for children & students
4. Vatican Library
- The center of knowledge that shed light on the universal Roman history, culture from the Renaissance period when it touched the pick till new education, art, music that curated the modern world. It is the oldest research library in the world with1.1 a million books and more than 8,500 incunabula in its inner capacity. This library has a huge collection of history, science, philosophy, accounts, and distinct traditional documents. People, who have a hunger for knowledge, wish to know about the authentic Roman history and shaping up of Christianity find this place a treasure house.
Timing: 9 am. To 2 pm.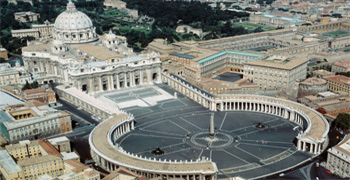 5. Vatican Necropolis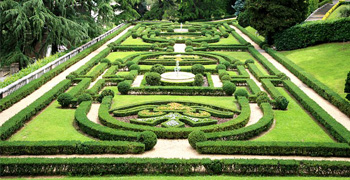 One of the benefits of visiting Vatican City is to see many memorable places together covering a small distance. Vatican Necropolis is an excavation site buried 5-12 feet deep under St. Peter's Basilica is the heritage site of the dead. The entry remains limited so advanced booking is suggested, and allowed for 15 above only.
Timing: 9 am to 6 pm.
6. Museo Chiaramonti
This extravagant historic museum is named after Pope Pius VII Chiaramonti and is distinctly reckoned with for its unique collection of more than one thousand antique funerary sculptures. The complete setup of the museum was targeted with "three sister's art", sculptures, architecture, and marvelous paintings of frescoes.
Timing: Monday-Saturday: 9 am. to 6 pm.
Tickets: Adults: 21 Euro
Reduced: 12 Euro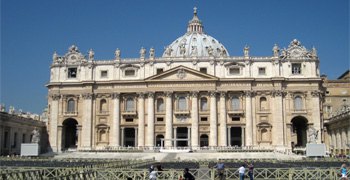 7. Saint Peter's Square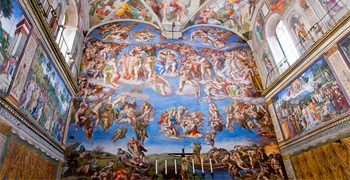 Designed by one of the top-notch artist and Italian architects Gian Lorenzo Bernini, a specialist in curating Baroque statues. With an inner measure to hold 4,00,000 people at a go Saint Peter's Square is the most eventful destination for the tourists in Vatican City and love to get lost in the magical potion of human creativity and living inspiration.
Timing:7 am. to 7 pm.
8. Pinacoteca
Vatican tour would remain incomplete and abrupt without this immensely valuable artistic site of Pinacoteca. This destination depicts the construction of the famous architect Luca Beltrami for Pius XI. Pinacoteca is well known for the stunning sculptures on its walls, it was inaugurated on 27th October 1932. The center of the Sistene Chapel's ceiling is depicted through a painting, these beautifully aided paintings drive hundreds of tourists and bless their souls. The place is near St Peter's Basilica and is situated inside Vatican Museum.
Timing: 10 am to 5.30 pm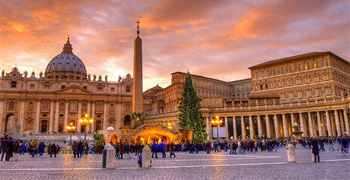 9. The Colosseum-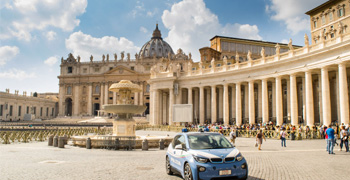 The Flavian Monument or proudly opined as The Colosseum is considered one of the seven wonders of the earth and is more than enough to become a nectar spot for the tourists to arrive as bees here. This monument is a beauty that glorifies the great history of Rome, Roman Architecture, and Masonry, this site marks the biggest amphitheater which was ever built. This monument is located very close to Vatican City and has seen a lot of destruction and war of the Roman Empire.
Timings: Past 3 pm
Entry Amount: 12€
10. Egyptian Museum
This Monument was discovered by Pope Gregory XI in late 1839, this is the sole reason it got its name. There are numerous sculptures and drawings in nine different rooms in this museum all these sculptures are dedicated to different events and personalities. The reliefs of Ancient Assyria are also depicted though many sculptures. This place is close to St Peter's Square and will be a very inspiring site for tourists energized by art and culture.
Timings: 9 am to 11 pm
It was a brief itinerary and all you wanted to know about… So get on, pack your bags, and book your tickets to Travel to Europe on your next vacation. Don't miss out on any of these epic experiences and all the stunning destinations, Set foot inside the historical and the holiest place on Earth and let Catholicism engulf your soul. Book the next trip with Zutoura Services and get exciting discounts as well.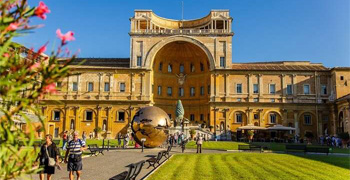 A happy and safe travelling!