Food in the Netherlands
There are many delicious foods to try in the Netherlands. Traditional foods you may have heard of include Gouda and Edam, which are staples not only for tourists but for all Dutch people. Old Amsterdam is a softer cheese that you may not have heard of but should try. Herring (or Haring) is another traditional and well-known Dutch dish. Often served raw with onions, or in a sandwich known as a 'broodje haring,' which is available everywhere. Krokets are another popular Dutch snack. It is a deep friend, breadcrumbed roll that is usually filled with beef, veal, or chicken. They're even available at McDonald's! Stroopwafels are a popular sweet treat that can be served as a dessert or alongside a cup of coffee. These tiny pancake-like pastries have two sides and an inside layer of sticky syrup. As a sweet treat, Dutch pancakes are also popular. They are usually larger than American or French pancakes and come with a variety of interesting toppings to choose from. When it comes to restaurants, the Netherlands has a lot to offer. The Michelin-starred Fred in Rotterdam is regarded as one of the best in the country, serving the finest French cuisine. Another Rotterdam institution is the 100-year-old Restaurant Old Dutch. There are numerous excellent restaurants in Amsterdam. Restaurant de Kas is set in an old greenhouse (with vegetables grown on site), Sazanka is Europe's only Michelin-starred Japanese restaurant, Jansz is set in an old apothecary shop by a canal, and Stork serves some of the city's best seafood (on the north shore of the IJ river). A dinner cruise along Amsterdam's canals past historic houses and under bridges strung with fairy lights is a more romantic experience. The Zeeland region is home to seven Michelin-starred restaurants, many of which are naturally influenced by the sea. Try Inter Scaldes, which is located near Kruiningen. The food in Maastricht is influenced by the surrounding French, Belgian, and German regions, but Beluga is a place to find food from its celebrated Dutch chef, with a delicious tasting experience and complimentary beer brewed on site. The views from VANE, which is located on the 13th floor of the NH Hotel in the city centre, are hard to beat in Eindhoven. Begin your evening with a drink at the VANE Skybar, followed by a meal made with local ingredients and wine pairings carefully chosen.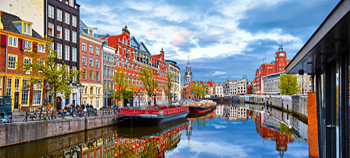 The Netherlands has one of Europe's largest and most well-connected airports. Amsterdam Schiphol Airport is located a few miles south of the city centre and is home to KLM Royal Dutch Airlines, one of the world's oldest airlines with a global network of routes that includes many daily departures to the United Kingdom and other European airports.
Schiphol Airport has a large train station beneath the terminal with multiple daily services to Amsterdam Centraal Station (journey time of about 20 minutes), as well as connections to cities throughout the Netherlands and into Europe, so you don't need to connect elsewhere. From Schiphol, there are numerous local and regional bus routes.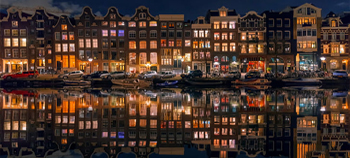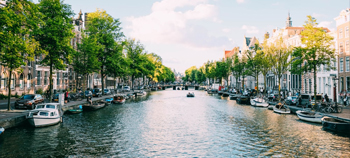 Centraal Station is a large rail hub conveniently located near all of Amsterdam's major streets and canals. It has train connections throughout the Netherlands and Northern Europe, as well as a Eurostar service to London
It is possible to walk around Amsterdam, but most locals prefer to cycle. Bikes can be rented at various locations throughout Amsterdam, including Centraal Station, Dam Square, and Leidseplein. There are numerous rental shops, but it's often best to book ahead of time with a company like A-Bike or Yellow Bike.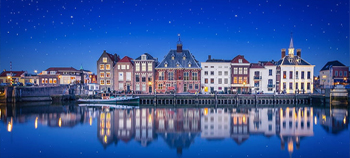 There are few bus routes in central Amsterdam because it is mostly made up of canals, pedestrianised areas, and narrow streets. Taxis can be hired to get to more specific destinations, and there are free ferries from Centraal Station and other points across the IJ.
Amsterdam also has a Metro system that is especially useful for getting to the suburbs. Bus and rail networks are extensive throughout the Netherlands, particularly in the central and southern regions, and in cities such as Rotterdam, Eindhoven, Lelystad, The Hague, and Breda. You can take the train to northern cities like Leeuwarden and Groningen, but it's best to rent a car to explore more rural areas like the north coast. The Friesian Islands are accessible by ferry from Den Helder, Harlingen, and Holwerd.