Some of the best Operators for Skydiving
Floating through the sky and witnessing the alluring countryside of Italy is an experience of a lifetime, or should we say like a dream? Well, this dream can be twisted into reality by these amazing operators with the best personnel on board.
1. Aero Club Vercelli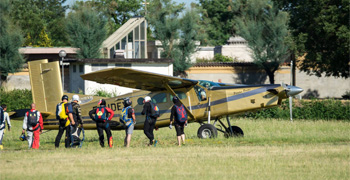 Located At – Viale dell Aeronautica Francis Lombardi, 46, 13100 Vercelli VC, Italy
This operator is famous for the training is delivered to the finest pilots in North Italy. Skydiving services had been offered since 1928 which marks the trust of this institution and undoubtedly one of the best places for you to sign up to.
2. Accademia Di Paracadutismo
Located At – StradaStatale, 31, 15033 CasaleMonferrato AL, Italy
Price – AFF Lessons: ₹112250
Tandem Jumping: ₹12386 (₹13934 along the weekends) Videos: ₹4644
One of the most precise skydiving operator is Accademia Di Paracadutismo. This school is best in the Monferrato region of Italy, you are free to enjoy and create beautiful memories from freefalling from the sky, the professionals in this place have been teaching tourists and giving them professional trips since late 1965.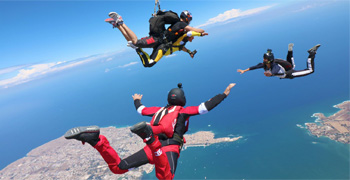 3. Sky Dream Center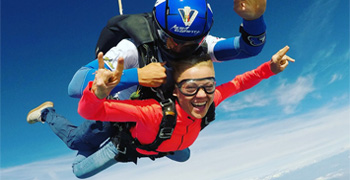 Located At–Str. Galassa, 11, 10040 Cumiana TO, Italy
Price – AFF Lessons: ₹100621
Videos: ₹4644
Tandem Jumping: ₹13158
A group of friends started the project named Sky Dream Center in the year 2002 with the sole dream of rebooting the trend of skydiving in Cumiana. This destination is the best place for revising and practicing free-flying, AFF Courses, Skydiving Tricks, Tandem Constrained Wing, and nevertheless a soothing place to rejoice with your friends. This stretch is located in the Southwest Region of Turin, the place is slightly hilly and is guarded against mountains making it secure from winter mists and spring precipitation.
4. Sky Dive Fano
Located At – Via E. Mattei, 50, 61032 Fano PU, Italy
Price – Tandem Jumping: ₹12771
Videos: ₹2709
AFF Courses: ₹92881
In Italy, one of the best regions having cliff-backed bays is Le Marche having white pebbles through the Adriatic. Tourists who wish to skydive have an amazing route ahead bestowing stunning views of the Adriatic Sea and Apennine Mountains whilst driving. The Skydive Fano institution has been giving lessons and up-to-date facilities to tourists for years and can be fully trusted with the Skydiving training.
It is a brief itinerary about the best operators and the stunning drop zones with the picture-perfect scenarios setting the perfect mood to plunge from the sky. Enjoy the thrill from some of the stunning destinations in Italy, we hope this information helps you narrow your search and draft a tailor-made vacation. Italy is remarkably one of the most romantic and a profound historical destination as well so; plan your holiday in Italy with Zutoura Services and avail special discounts, Adieu!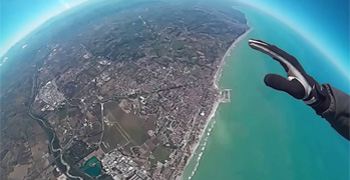 A happy and safe travelling!